If you are reading this, you should be considering pursuing a Master of Law in the United States or overseas. Next September, applications for the US's Spring and Fall LLM programs will start to be accepted. We have written an article that we would want to use as a reference during the application period. Who is referred to as an LLM degree holder? What does LLM mean? How can I apply for an LLM? We'll go over the fundamentals of LLM and its uses.
Describe LLM. What is this expanded version?
LLM is short for "Master of Law," therefore "Master of Law." It is a shorthand for the Latin phrase "Legum Magister." It is employed as a title in academia for the study of law. Mostly LLM or LL.M. The phrase "Master of Laws" is also used in English. I don't believe it is necessary to state that he is a legal expert. It is the degree needed by lawyers and lawyers who want to specialize, separate out from their competitors, or rise academically due to the intense rivalry in the legal profession.
How do LLM programs work?
In America, there are two types of LLM programs: general and specialized.
International students who have finished their undergraduate studies outside the United States are welcome to enroll in the General LLM program, which is designed to familiarize them to the American legal system.
Specific LLM programs are the kind that concentrate on a particular area of study, such commercial law or intellectual property.
All-purpose LL.M By taking part in the program, you can learn more about the American legal system or consider enhancing your skills in the area of law that interests you by taking part in focused programs.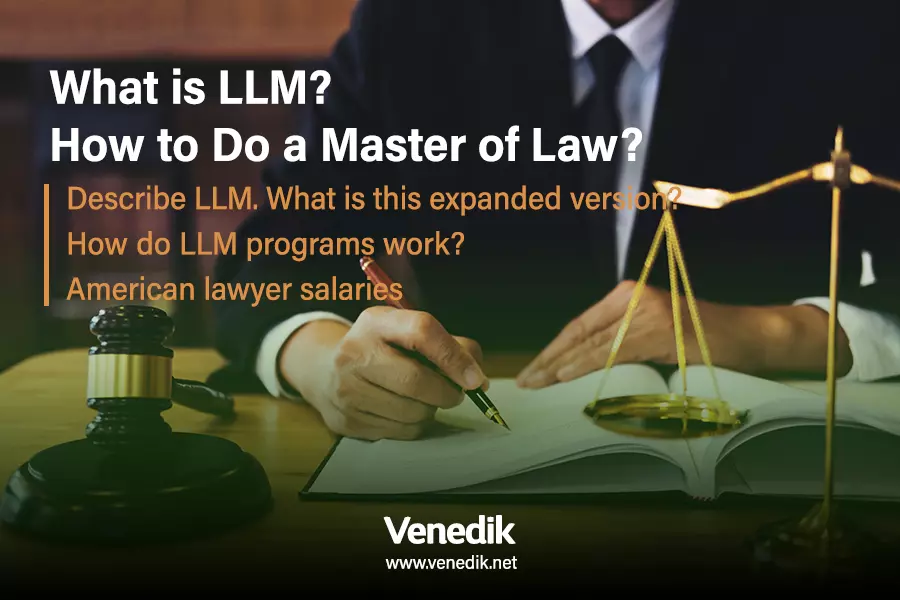 Which attorneys use the term LLM?
For more thorough information about the LLM, tap the image.
Every lawyer who completes their LLB degree also earned their Bachelor of Laws. After earning their LL.M. in law, lawyers who pursue further education may use the title. Lawyer with an LLM Ahmet Mehmet, Atty. Surely, you've come across names like Ahmet Mehmet. You can see in the form that Barney Stinson is an American lawyer.
Describe LLB.
It is the diploma that graduates of law schools obtain. "Bachelor of Laws" is referred to as an LLB. Every lawyer who graduates from a Turkish law school has an LLB degree, which satisfies the primary LLM qualification. So let's begin a discussion of LLM applications:
How do I apply for an LLM in the United States?
The LSAC system is used in the USA for online LLM applications. Applications for LLM programs are accepted at intervals set by the universities.
Applications are typically accepted up to the dates mentioned beginning in September. Some law faculties accept students using the Rolling system, while some universities assess all of the applications at once after the deadlines have passed.
How does the rolling system work? You might inquire, therefore let's respond: In the rolling system, the applicant's application is reviewed right away, and if accepted, the quota will be filled for one person. Without waiting for the deadlines, the quota starts to be filled. Every university has a unique system. On the websites of the schools, you should look up the most recent deadlines and the kind of system they use.
In December and January, applicants for the top 10 law schools, including Harvard Law, Yale Law, and Stanford Law, submit their applications. You start anticipating September when you receive the acceptance response. Aside from these institutions, the top 50 law faculties' applications are open till June. We must reiterate that the information we present is generic in nature; before submitting an application, you should definitely check the deadlines of the schools.
legal education in the USA
Describe JD.
J.D., J.D., or J.D. is the legal degree in America. It stands for "Juris Doctora," which is shortened. JD graduates can practice law in the USA by passing the bar tests after completing the three-year curriculum. However, it is distinct from the Turkish educational system.
How long has law been been in the USA?
JDs are similar to master's degrees. A 4-year undergraduate program must be finished before enrolling in a law program in the United States. Any section could be used for this, such as History, Art, Biology, or Psychology. Following graduation, LSAT testing and JD applications are initiated. As a result, a JD program takes three years to complete in the USA after four years of undergraduate study.
I don't have a law degree. Can I still study law in America?
Yes. The relevant conditions must be met in order to apply to law faculties for a JD if you have finished an undergr
I am a Law School Graduate, can I do JD?
Yes. The law faculty you have completed in Turkey meets the requirement of a bachelor's degree, which is the condition of JD. Thus, by providing the necessary documents and conditions, you can start JD applications.
American lawyer salaries
American lawyer salaries are competitive, as they are in many other nations. The U.S. Bureau of Labor Statistics (ref) estimates that the average annual salary for attorneys in the country is roughly $144,000. State to state variations exist. The two states with the highest attorney salaries are California and New York.